2010-06-04 Wilkes Barre, PA, United States (Glam Nation Tour)
From Adam Lambert Live
Date: June 4, 2010[1]
Event: Glam Nation Tour
Type: Concert
Televised: No
Venue: F.M. Kirby Center for the Performing Arts
City: Wilkes Barre
State: Pennsylvania
Country: United States
Highlights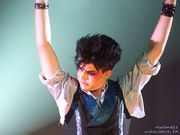 This is the first show of the
Glam Nation Tour
. According to The Times Reader
[2]
, RCA is quoted as saying that the concert is off limits to all media outlets. Their reason is that Adam is a "young performer and the Kirby show [is] the first date on his first-ever solo headlining tour".
Adam sings "Broken Open" in this performance. (The song is later dropped from the setlist, beginning from June 17, 2010; see here.)
It is also during this performance that Adam has a wardrobe malfunction. His "shirt", which turned out to be just a collar and sleeves, ripped out of the vest it was sewn into. This led to a campaign on twitter for Adam to join #teamnoshirt. Whether the campaign worked or not, Adam returned the next night wearing just the vest.
Other highlights include:
First ever live performance of "Aftermath" (acoustic).
First ever live performance of "Voodoo".
First performance of "Ring of Fire" since Party City Halloween Bash on October 24, 2009.
Setlist
Voodoo
Down the Rabbit Hole
Ring of Fire
Fever
Sleepwalker
Whataya Want From Me (Acoustic)
Soaked (Acoustic)
Aftermath (Acoustic)
Erotica Interlude, Sure Fire Winners
Strut
Music Again
Broken Open
If I Had You
Encore: Mad World (Acoustic)
Media
Notes
↑

This is the first show of the Glam Nation Tour.
Share Your Opinion