2010-08-14 Saint-Jean-sur-Richelieu, QC, Canada (International de montgolfières de Saint-Jean-sur-Richelieu)
From Adam Lambert Live
Date: August 14, 2010
Event: International de montgolfières de Saint-Jean-sur-Richelieu
Type: Concert
Televised: No
Venue: Scène Loto-Québec
City: Saint-Jean-sur-Richelieu
Province: Quebec
Country: Canada
Highlights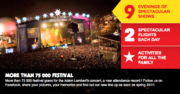 Tonight Adam headlines at the International Balloon Festival of Saint-Jean-sur-Richelieu. The acoustic set is extra poignant, framed by overhanging stars above the the stage. During the show, Adam throws in some French words, including "merci" (thank you) and "je vous aimes" (I love you all).
For the encore, the band plays the combination of "Mad World" and "20th Century Boy" for the first time (so much for shelving Mad World like he implied he would in an interview just a few days before).
Right at the end of the show, he tweets: "Ummm St John (Montreal) one of our best crowds yet!!!!! Beautiful faces. :) so diverse!! Thank u skater- lookin boys for smiling so pretty at me'. Lol another shot of Tequila!!!"[1]
Adam sets a new attendance record for the Balloon Festival with 75,000 attendees.
Setlist
Voodoo
Down the Rabbit Hole
Ring of Fire
Fever
Sleepwalker
Whataya Want From Me (Acoustic)
Soaked (Acoustic)
Aftermath (Acoustic)
Erotica Interlude, Sure Fire Winners
Strut
Music Again
If I Had You
Encore: Mad World (Acoustic)
Encore: 20th Century Boy
Media
Notes
Share Your Opinion