2010-08-17 Providence, RI, United States (Glam Nation Tour)
From Adam Lambert Live
Date: August 17, 2010
Event: Glam Nation Tour
Type: Concert
Televised: No
Venue: Lupo's Heartbreak Hotel
City: Providence
State: Rhode Island
Country: United States
Highlights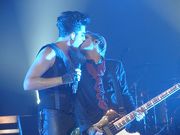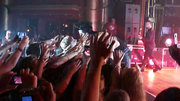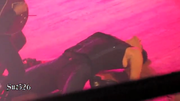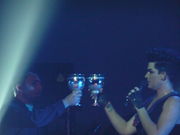 Arguably his most wild Glam Nation concert to date.
On-stage (and off-stage) shenanigans are in full display, with slow tongue licking with Tommy during "Fever" and a full makeout session with Tommy during the band introductions of "If I Had You".
But the highlight of this evening has to be "20th Century Boy", where he first walks towards the pit and french kisses a lucky girl in the audience. If this is not enough, during the middle section of the song, he returns to the same section of the pit and proceeds to pash/snog/french/ a pretty blond guy. The vocals though! The vocals! Without missing a bit, he hits some incendiary high notes right after getting lucky with the pretty blond. (Dear Adam, if making out is what makes you a better singer, we approve of it so fucking much.) The final third of the song features some crazy, flexible backbending while writhing on the floor. During all of this, Longinue thrashes wildly on his drums, eventually taking the song to a glorious finish. Words do no justice to this performance really, so here's a video instead:
Note to fandom: If you want to get lucky, please remember always to stand on the side closer to Tommy (i.e. right side of stage when you face it) and front row if possible. Having a pretty boy in front as bait also helps.
Other notables:
"Glampire" is the theme of this concert as various members of the Glamtroupe post twitter pics with them sporting fans and/or acting the part[1]
At the beginning of "If I Had You", Adam makes a toast to the audience from what he calls "douchebag cups" (garish-looking chalices). According to him they contain "only water".
During the band intros of "If I Had You", Adam grabs Tommy from behind. "You wanna know something funny? [Tommy] likes girls. Sorry about that," Adam says to the audience. "He also likes this," he quips, as he proceeds with the full on make out with Tommy.
After the long kiss during "If I Had You", Adam wipes off Tommy's lipstick that transferred onto his own during the kiss: "That fucking black lipstick all over my mouth!" Tommy then proceeds to prod Adam around the stage with his bass guitar. "Back up! Okay, Tommy, back to your kitty pen!" Adam exclaims.
During "20th Century Boy", Adam's vest is ripped open after his first adventure to the pit. He exclaims, "You ripped my vest off", while awkwardly (hilariously) trying to button back his vest (oh, the irony of it all -- macking on stage yet being extremely self-conscious about his top).
Tweet of wisdom from @adamlambert: TongueDiving is the new StageDiving. Get Into It[2]
Setlist
Voodoo
Down the Rabbit Hole
Ring of Fire
Fever
Sleepwalker
Whataya Want From Me (Acoustic)
Soaked (Acoustic)
Aftermath (Acoustic)
Erotica Interlude, Sure Fire Winners
Strut
Music Again
If I Had You
Encore: Mad World (Acoustic)
Encore: 20th Century Boy
Media
Notes
↑ @TerranceDlibra: http://twitpic.com/2fspvy. @UhHuhHerMusic: http://twitpic.com/2fs7g4
Share Your Opinion