2011-05-28 Moscow, Russia (Maxidrom Festival)
From Adam Lambert Live
Date: May 28, 2011
Event: Maxidrom Festival
Type: Concert
Televised: No
Venue: Toshino Airfield
City: Moscow
Country: Russia
Highlights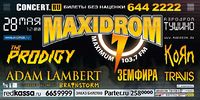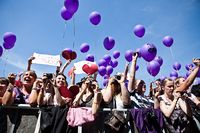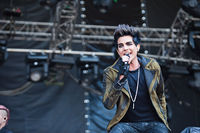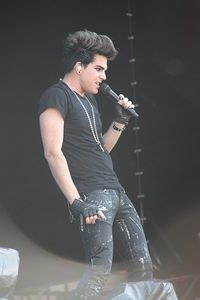 The band is scheduled to play at the Russian Maxidrom Festival at 1:30 PM. The festival starts late so the acts have been pushed back.
A couple of hours earlier, Camila Grey had tweeted that she was unable to perform at the festival due to an illness that kept her in the United States. As Zac Baird who plays for Korn happens to be playing at the same festival, there is some speculation if he would be taking her place for this concert. He subsequently tweets: "...i think they have it covered. but i will be standing by and in their corner."
At about 2:30 PM, the band begins performing. Having not performed together for some time, the band is rusty and the concert is an uneven one marked by extremes of tour-de-force performances, hot messes and one disaster:
"Down the Rabbit Hole" is a hot mess with Adam forgetting the lyrics for half the song. He makes up for it by improvising with some middle-eastern sounding wails...which kind of works!
A rock version of "Whataya Want for Me" features some new amazing improvisations towards the end. One of the best live versions of the song to date.
"Fever" contains some crazy high notes not unlike the UK GNT versions.
"Sleepwalker" in this Moscow concert is easily one of the best versions of the song ever, with some ridiculous vocal improvisations after the guitar solo, all the way to the end.
"Strut" is a complete disaster with Adam missing his cue and his key, which he doesn't seem to be able to find until almost the end of the song.
"Whole Lotta Love" is electric and has a feel quite similar to the Led Zeppelin BBC Sessions take of the song.
Setlist
Music Again
Down the Rabbit Hole
Whataya Want From Me (Electric)
Fever
Sleepwalker
20th Century Boy
If I Had You
Strut
Whole Lotta Love
Sure Fire Winners
Media
Notes
↑ His YouTube channel with the complete set of videos in 360p can be be found here.
↑

The original WLL was split into 2 sections due to the taper accidentally stopping the camera. The interruption happened during a pause in the song so it does not affect the music. The files were joined together almost losslessly without transcoding except for 3 seconds of video.

↑ When combining all the MTS/TS files together using MKVToolNix, you can use this XML file to create chapters for the resultant MKV file. The timings in the XML are based on a combined file using Terra's Whole Lotta Love edit, and not the original split files.
Share Your Opinion