2012-09-25 A Benefit for Marriage Equality Featuring Adam Lambert
From Adam Lambert Live
Date: September 25, 2012
Event: Benefit (Trespassing Promo)
Type: Concert
Televised: No
Venue: 9:30
City: Washington, DC
State: Washington, DC
Country: United States
Highlights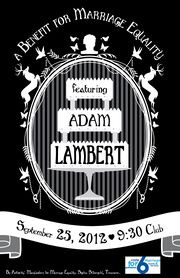 Adam visits the 9:30 club in Washington DC to perform a benefit concert for
Marylanders for Marriage Equality
. This is a very relaxed concert, showcasing Adam's sassy side.
Before "Outlaws of Love", Adam makes a heartfelt speech about the need for marriage equality before performing a gorgeous version of the song.
"Cuckoo" is extremely fun, with Adam playfully rapping "Don't know much about V but the cock sounds good!"
Rick Jordan, who first played for Adam at Alice's Summerthing is the drummer for the gig.
Setlist
Kickin' In
Shady
Trespassing
If I Had You
Pop That Lock / Mashup: "Smooth Criminal", "I got the feeling" band jam
Thank You (Falettinme Be Mice Elf Agin)
Outlaws of Love
Whataya Want From Me
Naked Love
Never Close Our Eyes
Cuckoo
Media
Share Your Opinion