2013-01-31 We Are Family Foundation 2012 Celebration Gala 2.0
From Adam Lambert Live
Date: January 31, 2013
Event: We Are Family Foundation 2012 Celebration Gala 2.0 (Trespassing Promo)
Type: Concert
Televised: No
Venue: Hammerstein Ballroom, Manhattan Center
City: New York
State: New York
Country: United States
Highlights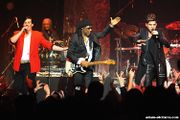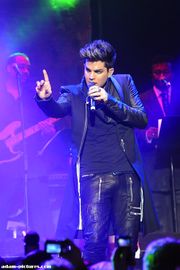 The We Are Family Foundation (WAFF) is a not-for-profit organisation founded by legendary producer Nile Rodgers. It was formed shortly after 9/11 to "inspire and educate people about respect, understanding and cultural diversity". Each year the WAFF organises Celebration Gala, a charity event that raises funds to support WAFF's mission and existing programs.
Originally scheduled for October 29, 2012, the gala, which was set to honour Sting and his wife Trudie, was postponed due to Hurricane Sandy. The rescheduled event faced another blow when a close friend of the couple passed away and the memorial service kept them from being in New York. The show, however, had to go on, so Nile invited Adam to perform with Chic and to honour him with the Unity Award, along with fellow honorees, Jeni Stepanek and Reservoir Capital Group founder, Daniel H. Stern.
Three words to describe the concert set: "short but electric".
Any fan who had been following the development of Trespassing in 2011 would have been aware of Nile's involvement in the song "Shady", which features him on guitar. The collaboration started off with a tweet from co-writer Sam Sparro inviting Nile to play on the record. The rest, they say, is history. For the fans, excitement was high when it was announced that not only was Adam going to be playing with Nile, but that Sam would also be appearing as a special guest performer. And did they deliver.
The concert begins with a fun version of "Let's Dance", which Nile jokes to the audience that he had begged Sam and Adam to perform it with him. The arrangement is quite similar to the original Bowie track – not surprising since Nile was the producer of the record.
The highlight of the concert though, is the best version of "Shady" to-date. Benefiting from a great arrangement, fuller band, and of course, the guitar of a disco-funk legend, Adam's vocals are given more room to soar, particularly towards the end. Sam's quirky vocals and ridiculous dancing add more to the fun. This rendition also includes a wonderful mashup of En Vogue's classic song "Free Your Mind".
"Whataya Want From Me" is performed for the first time with Chic on instrumentals. Nile's different guitar interpretation gives the old song a new lease on life.
Finally, Adam and Chic close the set – and bring the house down – with a blistering version of "Trespassing". This version is closer to the original recording's arrangement than previous live performances of the song (excluding the international performances that were performed to backing tracks). The song benefits from an extra drummer and clapping sounds that had been missing from previously, creating an auditory illusion of an arena that the song was made for.
Setlist
Let's Dance
Shady / Mashup: "Free Your Mind"
Whataya Want From Me
Trespassing
Media
Notes
↑ Video sources: EowynForAdam, EMandKAY2010, KiwisAgenda, NightBirdsObsession, playingwithunow, TALCvids
Audio sources: tinafeapf, EMandKAY2010, NightBirdsObsession
↑ Video sources: EowynForAdam, EMandKAY2010, KiwisAgenda, NightBirdsObsession, playingwithunow, TALCvids
Audio source: tinafeapf
↑ Video sources: EowynForAdam, EMandKAY2010, KiwisAgenda, NightBirdsObsession, playingwithunow, TALCvids
Audio source: tinafeapf
Share Your Opinion