2013-09-20 iHeartRadio Music Festival
From Adam Lambert Live
Date: September 20, 2013
Event: iHeartRadio Music Festival
Type: Concert
Televised: Yes (aired on September 30 and October 1, 2013)
Venue: MGM Grand Garden Arena
City: Las Vegas
State: Nevada
Country: United States
Highlights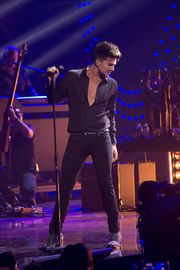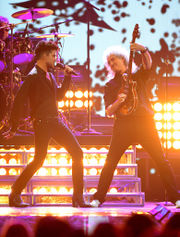 Adam reunites with Queen as their lead singer to close the first day of the annual iHeartRadio Music Festival.
The band fun. perform as special guests on "Somebody to Love" (sans Adam) and "Fat Bottomed Girls" (performed as a duet between Adam and Nate Ruess).
The concert was broadcast live across Clear Channel radio stations in the US, as well as video webcast on Yahoo! Music and the Live Events Viewer on PlayStation 3. Highlights of the performance were subsequently broadcasted on The CW.
Great audience audio recording by butterknife0204

Setlist
Bohemian Rhapsody
Another One Bites the Dust
Crazy Little Thing Called Love
Who Wants to Live Forever
Somebody to Love (with fun., without Adam)[1]
Fat Bottomed Girls (Adam + fun.) [1]
Dragon Attack
Bohemian Rhapsody (Reprise)
We Will Rock You[1]
We Are the Champions[1]
Media
Photos from Zimbio
RyanSeacrest.com
Billboard.com
RollingStone.com
Downloads
Notes
Share Your Opinion