2010-08-19 Hyannis, MA, United States (Glam Nation Tour)
From Adam Lambert Live
Date: August 19, 2010
Event: Glam Nation Tour
Type: Concert
Televised: No
Venue: Cape Cod Melody Tent
City: Hyannis
State: Massachusetts
Country: United States
Highlights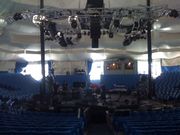 The first of two "circus" nights in separate locations.
A highlight of this concert is a rotating stage that allows the audience, who is seated along the circumference of the stage, to see the band from all angles. Due to the lack of a proper backstage for entry and costume change, some of the choreography has to be altered, making for a rather interesting concert. At the start of "Voodoo" (as well as during his reentry for "Sure Fire Winners", Adam makes a grand entrance from one of the floor entrances, to the delight of the crowd. Sound issues seem to be a recurring problem for this venue but the band is tight, delivering an all-round enjoyable show.
Notables:
During "If I Had You", Tommy picks up a black bra that has been thrown on stage and shows it to Adam, who offers to help him put it on his head. Adam has a change of heart and decides that the bra should instead function as a bow tie and proceeds to tie it on Tommy's neck!
Setlist
Voodoo
Down the Rabbit Hole
Ring of Fire
Fever
Sleepwalker
Whataya Want From Me (Acoustic)
Soaked (Acoustic)
Aftermath (Acoustic)
Erotica Interlude, Sure Fire Winners
Strut
Music Again
If I Had You
Encore: 20th Century Boy
Media
Share Your Opinion