2011-11-06 MTV EMA, Belfast, Northern Ireland, United Kingdom
From Adam Lambert Live
Date: November 6, 2011
Event: MTV EMA Belfast 2011
Type: Concert
Televised: Yes
Venue: Odyssey Arena
City: Belfast
State: United Kingdom
Country: Northern Ireland
Highlights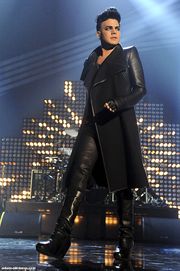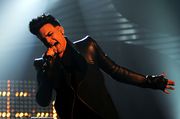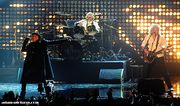 Invited by Queen to sing with them at the MTV Europe Music Awards (EMAs), Adam performs a spectacular rendition of a medley of Queen songs. The final act of the evening's broadcasted performances and playing to a live audience of 8,000 (with millions more behind the television), he captivates the audience with his usual touch of theatrical flair and brilliant vocals.[1]
Soon after the performance, Adam tweets[2]: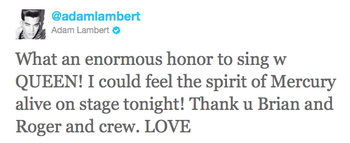 Check out the stunning performance at MTV.
Setlist
The Show Must Go On
We Will Rock You
We Are the Champions
Media
Queen Medley Downloads
Improved audio by Terra
Note: This improved audio is comprised of 2 audio sources: a 384Kbps 5.1 AC3 from ljorich[3] and 256Kbps stereo MPA from tudou[4]. The ljorich source was downmixed to stereo and used for most of the audio; the tudou source was used to patch a few missing notes in the beginning & repair a glitch in the ljorich source.
Videos using tudou cap and improved audio by Terra
Note: The videos here use an unwatermarked cap by tudou and contain the improved audio mix by Terra
Videos using MTV.com's official version (director's cut)
Note: MTV.com uploaded a 720p HD of the director's cut of the EMAs. The quality isn't as high-resolution as the tudou 1080i source but the video angles are more interesting. The 1080i cap by mmyy9 below is the same director's cut, however it has MTV logo watermarks and burned subtitles. The 720p and iPhone-compatible versions here are comparable quality-wise with tudou's. As the original audio quality was only 96Kbps, the audio has been replaced with the improved audio by Terra.
Old versions (superseded)
Note: The following have been superseded by the files above and are retained here simply for reference.
Interview Downloads
Notes
Share Your Opinion