2012-07-03 Moscow, Russia (Queen + Adam Lambert)
From Adam Lambert Live
Date: July 3, 2012
Event: Queen + Adam Lambert
Type: Concert
Televised: Yes
Venue: Moscow Olympic Arena
City: Moscow
Country: Russia
Highlights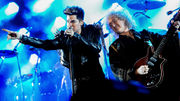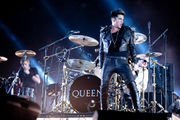 Queen + Adam perform at the Moscow Olympic Arena. This concert was original meant to be the warmup gig to the now-cancelled Sonisphere Festival in Knebworth, where they were to headline.
Setlist
Flash (Intro)*
Seven Seas of Rhye
Keep Yourself Alive
We Will Rock You (Fast)
Fat Bottomed Girls
Don't Stop Me Now
Under Pressure (Roger/Adam duet)
I Want It All
Who Wants to Live Forever
A Kind of Magic (Roger)*
These Are Days of Our Lives (Roger)*
Life Is Real (with Zemfira)*
Love of My Life (Brian)*
'39 (Brian)*
Dragon Attack
Drum Battle/Guitar Solo*
I Want to Break Free
Another One Bites the Dust
Radio Ga Ga
Somebody to Love
Crazy Little Thing Called Love
The Show Must Go On
Bohemian Rhapsody
Encore: Tie Your Mother Down (Brian)
Encore: We Will Rock You
Encore: We Are the Champions
*Adam does not perform these songs.
Media
Notes
↑

A lot of tapers hate it when MP3s are made from their concerts because they are passionate about audio quality. Permission wasn't sought to make these MP3s, hence please be discrete about this.
Share Your Opinion