2012-07-07 Wrocław, Poland (Queen + Adam Lambert)
From Adam Lambert Live
Date: July 7, 2012
Event: Queen + Adam Lambert (Rock in Wroclaw Festival)
Type: Concert
Televised: Yes
Venue: Municipal Stadium
City: Wrocław
Country: Poland
Highlights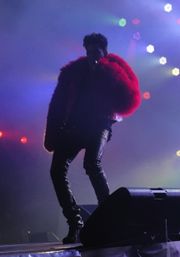 The Rock in Wroclaw Festival is Queen's first-ever concert in Poland.
As part of pre-event publicity, just a few days earlier (July 4), Queen held a press conference at Wrocław airport which included Adam for the first time.
The band including Adam is even more relaxed and tight than the previous two concerts. For "Dragon Attack", Adam dons an outrageous red jacket made by The Blonds (see here or here for closeup footage).[1] He also improvises on some new high notes for the song.
Setlist
Flash (Intro)*
Seven Seas of Rhye
Keep Yourself Alive
We Will Rock You (Fast)
Fat Bottomed Girls
Don't Stop Me Now
Under Pressure (Roger/Adam duet)
I Want It All
Who Wants to Live Forever
A Kind of Magic (Roger)*
These Are Days of Our Lives (Roger)*
Love of My Life (Brian)*
'39 (Brian)*
Dragon Attack
Drum Battle/Guitar Solo*
I Want to Break Free
Another One Bites the Dust
Radio Ga Ga
Somebody to Love
Crazy Little Thing Called Love
The Show Must Go On
Bohemian Rhapsody
Encore: Tie Your Mother Down (Brian)
Encore: We Will Rock You
Encore: We Are the Champions
*Adam does not perform these songs.
Media
Notes
↑ It appears that Adam first saw the jacket at The Blonds' Fall 2012 presentation during Mercedes-Benz Fashion Week on Feb 15.
↑ Taper: W.
Lineage: Church Audio STC - 11 > Sony MZ-R70 > rec. with Audactiy 16 Bit/44 > WAV > FLAC Level 8 (TLH)
↑

Terra: I applied some treble & bass EQ to make sound brighter and less distant + a bit of channel mixing to reduce audio channel imbalance
Share Your Opinion