2013-01-04 Hennessy Artistry
From Adam Lambert Live
Highlights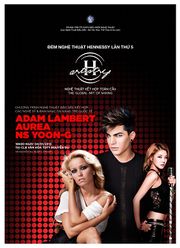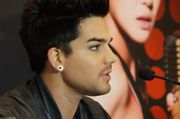 This is Adam's second
Hennessy Artistry
gig and his first ever performance in Vietnam.
The concert is held in Ho Chi Minh City. Just like the previous Hennessy gig in Shanghai, the artist roster once again features Aurea, a singer from Portugual. The other featured artist at the show is Korean pop singer NS Yoon-G.
For this show, Adam is the final act and plays a longer set than Shanghai. The show wraps up with a duet with Aurea, covering "Are You Gonna Go My Way" just like the Shanghai gig.
Setlist
If I Had You
Naked Love
Cuckoo
Never Close Our Eyes
Whataya Want From Me
Fever
Shady
Trespassing
Are You Gonna Go My Way (Duet with Aurea)
Media
Notes
↑

The audio channel appears to be taken directly from the mic feed for at least half of the concert and Adam doesn't sound good here. Instruments are very badly mixed too. The vocals sound 100% better on the zing.vn version. It's amazing what a better sound mix can do.

↑

Better than the zing.vn version for "Are You Gonna Go My Way". The latter seems to have lost its primary stage camera so most of the footage is of the audience. Audio quality is audience and not soundboard.
Share Your Opinion