2013-05-25 Life Ball 2013
From Adam Lambert Live
Date: May 25, 2013
Event: Life Ball 2013
Type: Opening Ceremony
Televised: Yes
Venue: Rathaus (City Hall Square)
City: Vienna
Country: Austria
Highlights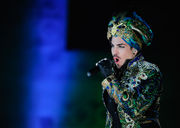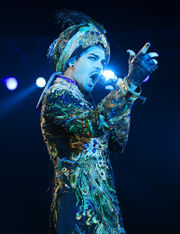 The Life Ball is one of the biggest AIDS charity events in the world. Held annually, the event serves not only to fund raise for important aid projects, but also to raise awareness of HIV/AIDS and fight against its taboo status in society.
Tonight, Adam performs "Love Wins Over Glamour", the official song of Life Ball 2013, for its opening ceremony. The song is written by Werner Stranka and Martin Gellner and is produced by BEAT4FEET. Adam also contributes to the song with some lyrics of his own.
The inspiration of the ball is "1001 Nights", linking Life Ball with the idea of "saving lives with imagination". For "Love Wins Over Glamour", Adam takes on the role of Ali Baba who is under the spell of the treasure of 40 thieves. Accompanied by the thieves' dancing, he yells the magic words "Open Sesame" at the end of the song, revealing the Life Ball stage that is concealed by the doors of a large dome.
Life Ball cocktail
Setlist
Love Wins Over Glamour
Media
Notes
↑ TS caps comprise the following streams:
Video: 13.1 Mbps H.264
Four 48kHz stereo audio channels: 256kbps MP2; 192Kbps MP2; 448 Kbps AC3; 192Kbps MP2
↑

The edit still contains the presenter's comment at the end of the song because the studio is slightly different from the broadcast version. Keeping the comment was the only way to ensure a seamless edit.
Share Your Opinion