2011-07-29 Sainte-Agathe-des-Monts, QC, Canada (Le Festival Sainte-Agathe en Feux)
From Adam Lambert Live
Date: July 29, 2011
Event: Le Festival Sainte-Agathe en Feux
Type: Concert
Televised: No
Venue: Scène Loto-Québec
City: Saint-Jean-sur-Richelieu
Province: Quebec
Country: Canada
Highlights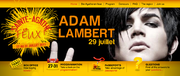 Note: this writeup is still pretty incomplete; will furnish more as I watch the videos - Terra
Tonight is Adam's second one-off concert of the year. (The first was at the Maxidrom Festival in Moscow.) The highlight of the evening is the world premiere of a song for his upcoming sophomore album. (We'll get to that!)
The evening features another completely jumbled up setlist, beginning with a full version of "For Your Entertainment" that had not been performed since his Europe promo tour. Adam is decked out in black Skingraft and a longer version of his Rockers Derek hair that he showcased in Moscow.
"Sleepwalker" tonight is another showcase of his insane vocal ability. The vocals following the guitar solo top even the incredible version at Moscow.
Just before "Mad World", Adam introduces his band. At the beginning of his introduction, he is interrupted by a moth, to which he says: "Oh hello, young...! What is that?? We don't have those in LA. I think that was a fairy. Well we have those, but not those kind. That's a twink! ...ahem." When he gets to Tommy, he introduces him as "the pretty kitty that all you people have written fan fiction about, shame on you! That's DIRTY!"; and with a slip of a tongue calls him "Tommy Ratcliffe".
Next up, after "Mad World" is the world premiere of "Outlaws of Love". The song is performed acoustically. While still sounding a little unfinished, the vocals are beautiful, exploit his pretty upper range andis reminiscent of Kansas's "Dust in the Wind" and Fleetwood Mac's "Oh Daddy".
Setlist
For Your Entertainment
Down the Rabbit Hole
Strut
20th Century Boy
Aftermath
Sleepwalker
If I Had You
Music Again
Mad World
Outlaws of Love
Erotica Interlude, Sure Fire Winners
Fever
Whole Lotta Love
Whataya Want From Me
Purple Haze
Media
Share Your Opinion